Historical Fantasywear & Events
Medieval clothes: robes and costumes!
You'll find everything you need to be real knights and damsels here.
You don't just dress up in Fantashion:
dressed and with sword and shield you become a bold knight, wrapped in a magical robe, you are an enchanting princess or princess.
What you need to know about Fantashion products:
- From cut-outs to threads, all our products (except Fiesta article) are manufactured in Germany and the EU without exception. The Far East lures us only because of the exotic dragons.
- Gowns, helmets, hats, swords are produced and traded fairly without exception. We work together with workshops for the disabled.
- Skin and environmentally friendly are very important properties of our materials. We do not use toxic chemicals for dyeing or tanning and use natural materials.
- This also includes the longevity of our products. Garments and shirts are designed in such a way that they "grow along" and can be worn by the children for many years. They are very stable and go along with everything..
Translated with www.DeepL.com/Translator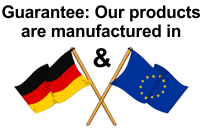 Tell a friend: